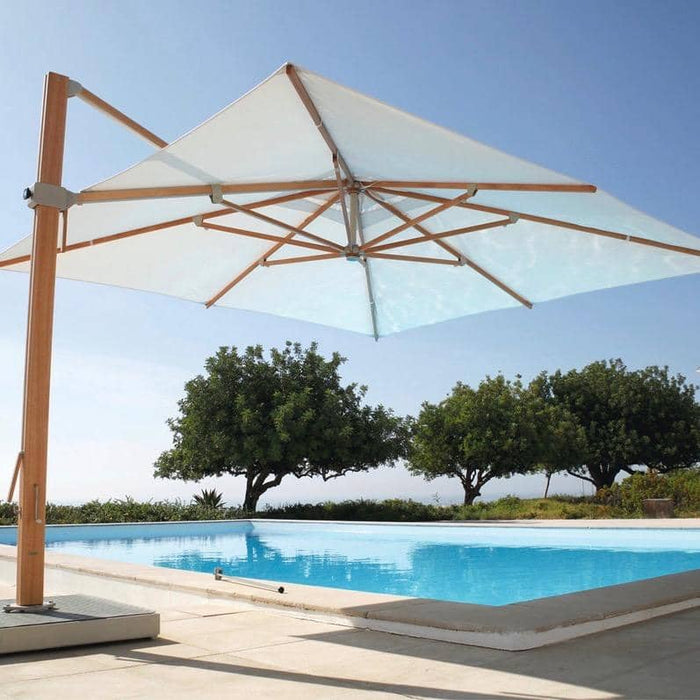 Napoli 3.5m Square Cantilever Parasol With Free Standing Base

by
Barlow Tyrie
Availability:
Not In Stock
Delivery
Free UK and All-Ireland delivery when you spend £100 or more. Prices include local rate VAT for UK & EU countries. Please allow up to 5 working days to receive your delivery.
ENQUIRE FOR AVAILABILITY
Original price
€5.045,95
-
Original price
€5.045,95
BUYERS NOTES
Currently Reserved. The Barlow Tyrie Napoli 3.5m Cantilever Parasol is a supreme model with a beautiful 3.5 mtr square canopy. Crafted using FSC® eucalyptus, poles and struts are accented with  316 Marine Grade stainless steel or aluminium that is powder coated with an attractive champagne colourfor a first class finish. The canopy can be tilted and turned through 360 degrees as the sun lowers and moves across the sky. A storage cover is also supplied to protect the parasol when not in use.
A Free Standing base is included with this set.
Barlow Tyrie is renowned worldwide for luxury outdoor leisure furniture, striking the highest notes in quality and style. Bringing sophistication to your outdoor area they offer a large collection with a myriad of contemporary design options so you can choose your perfect outdoor leisure set. Barlow Tyrie's teak wood is first grade plantation grown teak (Tectona Grandis) sourced mainly in Indonesia, where responsible forestry practices are employed.
Care Instructions
At the end of the season, Barlow Tyrie suggest you clean your parasols before storing them in a dry, well-ventilated area. Although Sunbrella® fabric will not mildew or mould, it is recommended that the canopy is cleaned regularly to prevent the accumulation of dirt on the fabric. To clean and maintain your parasols, it is recommended that you remove dirt, grease, oil, and mould. After cleaning the use of 'Barlow Tyrie Fabric Weather Guard' (4FWG) protects the fabric from the aging effects of weather.
Warranty
3 year warranty guarantee on all parasols and bases.
SIZE GUIDE & SPECIFICATION
Set Includes: 
1 x Napoli Cantilever Parasol 3.5m Square (4NAC35S.302)
1 x Napoli Free Standing Base (4PBFC.04)
1 x Night Storage Cover
Assembly Required: Yes
Dimensions (H): 307cm x (W): 350cm x (D): 350cm
Weight: 54kg
Optional Extras:
Please note that we put in orders on-demand for our clients and there are many customisation options. If you are interested in other Barlow Tyrie products or colour/material options, please feel free to get in touch with us at 028 796 42324.
SKU
4NAC35S-302, 4PBFC-04